Stretch Labs
Premium Assisted Stretching Boutique
Founded in 2015, StretchLab was established in Los Angeles, California to fulfill the vision of creating an affordable assisted stretching concept within the boutique fitness industry. Led by an expert team with more than 25 years experience in fitness franchising, StretchLab is revolutionizing the stretching industry by offering franchise opportunities across all major markets – making the benefits of stretching accessible to all.
Referred to as the next dominator in the fitness industry by New York Times and Wall Street Journal, stretching is in its infancy within the market, positioning StretchLab as the market leader.
StretchLab is generating a new level of professionalism, instruction and competency for the flexibility and stretching industry. Don't miss the opportunity to bring StretchLab to your local market!
StretchLab is part of the Xponential Fitness family of brands, the curator of the best fitness & wellness brands aross every vertical of boutique fitness. With more than 25 years of boutique fitness franchising experience within each brand, Xponential Fitness has the resources and network to ensure continued growth and support for our franchise partners. Current Xponential Fitness franchise brands include Club Pilates, Row House, CycleBar and AKT.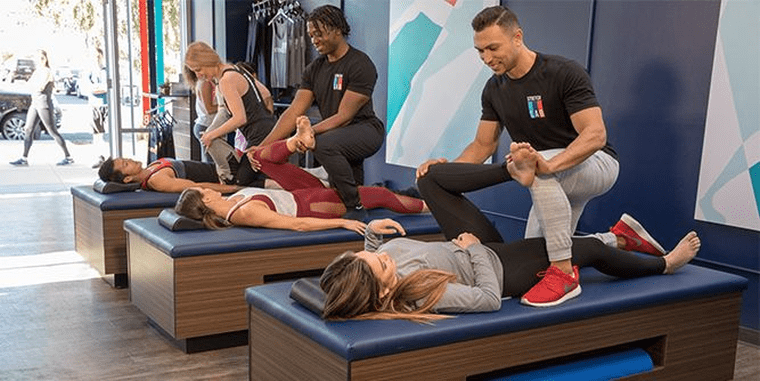 Why StretchLab?
First Mover Advantage: StretchLab has territorial availability across all major markets – don't miss the opportunity to own our local market!
Extensive Support: We believe extensive training drives success – from lease negotiation to build out, recruitment to finance, and sales & marketing to sustainable business, you'll be supported every step of the way!
Executive Model: StretchLab's turnkey franchise model provides a completely scalable business that lets you determine your own success. It will enable you to leverage significant development costs and national vendor relationships to launch your studio successfully.
Investment: Enjoy our recurring revenue model, exceptional EBITDA margins and the confidence in our team that has more than 25 years of experience in fitness franchising.
Learn More About Stretch Labs